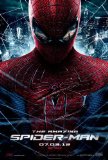 The Amazing Spider-Man
The Amazing Spiderman

The Amazing Spiderman was much more sophisticated than Sam Raimi trilogy. I like the latest version of Spiderman. I like the way the new movie went through the bullying stage of teenage Peter Parker. They dealt with it a subtle way and moved on. Andrew Garfield as the brand new Spiderman was a great choice, because he actually fits the role, he's taller, skinny, and he seems to have more fun playing the character than Tobey ever did. The up to date love interest of Spiderman plays by Emma Stone, I like that, she was independent and not too easily fall into Spiderman web. The Amazing Spiderman was darker than the previous two; this one is about Peter Parker finding who killed his dad and taking revenge. To his luck, he fell into this briefcase that his Dad was working on and this is where he started investigating what happened to his Dad. The slower he started to dig the slower evidence started to point to one man. That man was his Dad partner plays by Rhys Ifans. His alter ego was the Giant green lizard which wants to destroy the city.