2/4

2/4

2.5/4

2/4

3.5/4

2.5/4

2/4

2.5/4

2/4

2/4

2/4

3/4

3/4

3/4

2.5/4

2.5/4

2.5/4

2.5/4

2/4

2.5/4

2/4

2.5/4

3/4

3/4

2.5/4

Next 25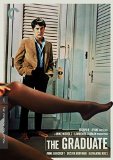 The Graduate
"Mrs Robinson, are you trying to seduce me?"
3/4 stars
21-year-old Benjamin Braddock (Dustin Hoffman) has just graduated from college and has no clue about what he wants to do with his life. His upper-crust parents mistakenly think that he'll probably go to graduate school, after some much-needed rest and relaxation.

Mrs. Robinson, (Anne Bancroft) the wife of his father's business partner of course had plans of her own. She tries to seduce him, and he eventually lets her, in private liaisons at an upscale downtown hotel. The affair continues on for a while with little problems, that is, until, Elaine Robinson (Katharine Ross), the Robinson's college-bound daughter, comes home from Berkeley and Ben suddenly finds some direction for the first in his life since he came home from college. He now knows what he wants because suddenly he's in love! This of course, causes all sorts of problems because he can't date Elaine while still carrying on a sordid affair with her mother!

Dustin Hoffman does a fantastic job of being the nervous, unsure young man. His obvious tentativeness with Mrs. Robinson is endearing while the late Anne Bancroft is the delightfully manipulating Mrs. Robinson.

A truly great coming to age story! This film was funny, dramatic, sad, shocking, with a strong social message and the unforgettable songs by Simon & Garfunkel are the perfect combination of joy and melancholy.