2/4

3/4

2/4

3/4

2/4

3/4

2/4

4/4

2/4

2.5/4

2.5/4

2/4

2/4

2/4

2/4

3/4

2/4

2.5/4

2/4

2/4

2/4

3/4

2.5/4

2.5/4

3/4

Next 25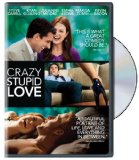 Crazy, Stupid, Love.
Great blend of Cute and Serious!
3/4 stars
Steve Carell plays Cal, a likable middle-aged man whose wife, Emily, (Julianne Moore) suddenly requests a divorce after 20+ years of marriage, along with an announcement that she has cheated on him with her coworker David (Kevin Bacon). Cal is understandably blindsided by these revelations; he is one of those dopey husbands who assumes everything is fine when no one is complaining.

Heartbroken, Cal eventually turns to the rich womanizer Jacob (Ryan Gosling) a six-packed sexy ladies man who is slicker than slick who offers to teach Cal all he knows so he can hopefully 'regain his manhood'. The two bond during their experiment and the former loser turns into a lustful predator, managing to bed nine women in no time. But things become complicated when Emily begins to show feelings for Cal again and Jacob meets Hannah (Emma Stone), a no-nonsense savvy young lady. Both men are suddenly in free fall, quickly in need of re- evaluating their vastly different lives.

Another subplot involves Cal's 13-year-old son, Robbie, played by Jonah Bobo who is madly in love with his 17-year-old babysitter, the alluring Jessica, played by Analeigh Tipton who just happens to be carrying a torch for his dad. This situation alone fuels some of the comedy.

All in all, I found myself laughing, smiling, and enjoying this flick much more than I thought, and that's what entertainment is all about. A Great watch with a wonderful cast which also includes Marisa Tomei!