2/4

3/4

2/4

3/4

2/4

3/4

2/4

4/4

2/4

2.5/4

2.5/4

2/4

2/4

2/4

2/4

3/4

2/4

2.5/4

2/4

2/4

2/4

3/4

2.5/4

2.5/4

3/4

Next 25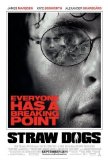 Straw Dogs (2011)
Everyone has a breaking point!
2.5/4 stars
Straw Dogs, a psychological thriller directed by Rod Lurie a supposedly a remake of the infamous 1971 Sam Peckinpah controversial classic of the same name that I haven't yet seen but am hoping to remedy that. It is also based on a pulp novel The Siege at Trencher's Farm by Gordon M. Williams.

A Hollywood screenwriter David (James Marsden of 'X_MEN') and his pretty wife Amy (Kate Bosworth) moves back to her hometown so that he can write his new script, Stalingrad, in peace and tranquility. When the couple needs their run-down barn to be fixed, they employ a group on constructors, one of who is Amy's ex-boyfriend, Charlie, (Alexander Skarsgård of 'TRUE BLOOD') and David hires them to fix the roof. Amy soon discovers that her old town wasn't exactly how she left it as Charlie and his boys harass David and Amy to increasingly escalating levels. David fails to react because he is pacifistic and knows there are other ways to solve problems. Things, of course, eventually reach a breaking point as the taunting gets more and more threatening.

David fires Charlie and his crew, but things only get worse. In order to keep his house and his wife safe, David must fight back. Amy thinks David is a coward, but when his home is invaded, his anti-violent self is tested, and he too is forced into violence. Without spoiling the ending you can imagine what is going to happen here.

Alexander Skarsgård is really effective as the leader of the pack and the wife's redneck bad boy ex-boyfriend who is everything Charlie's not, tall, ruggedly handsome and oh so very dangerous. We also get James Wood in a terrific performance playing a drunken high-school football coach who doesn't want his teenage daughter flirting with the town's mentally-handicapped Jeremy (Dominic Purcell of 'PRISON BREAK').

Without giving too much away I have a lot of questions about one particular episode that I would save for whoever watches and reviews this movie.