2/4

2/4

2.5/4

2/4

3.5/4

2.5/4

2/4

2.5/4

2/4

2/4

2/4

3/4

3/4

3/4

2.5/4

2.5/4

2.5/4

2.5/4

2/4

2.5/4

2/4

2.5/4

3/4

3/4

2.5/4

Next 25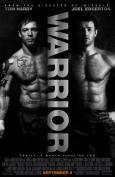 Warrior (2011)
Obvious Clichés and All…it left me in tears!
3/4 stars
Two brothers competing against each other - Check

A father torn between his two sons at odds with each other - Check

Alcoholic trying to redeem himself and win his family's respect back - Check

Underdog trying to save his house and family, dreams of winning championship prize money - Check

On the surface, Warrior is about MMA and UFC fighting, but this takes a back seat to the gritty emotion of the dysfunctional relationship between father-sons and brother-brother.
The physically commanding Tom Hardy plays Tommy- an ex- Iraqi Marine who was a champion MMA (Mixed Martial Artist), trained by his father. With the build of a bulldog, (can't wait to see him as the villain Bane alongside Christian Bale in The Dark Knight Rises) he has the personality of a champion - brooding, confident and with the capability to finish off his opponents in seconds. But he is also disillusioned (feeling like your older brother bailed on you is not something you can easily forget and Hardy portrays that so well) and a deserter from the armed forces who just wants to win enough money to help the ex-wife of his dead best friend support her family.

Joel Edgarton plays Brendan, also a former UFC (Ultimate Fighting Championship) fighter who now works as a high school Physics teacher struggling to pay his mortgage and keep a roof over his family's heads. To make matters worse, he is fired from his teaching job for moonlighting as a competitive fighter. He is every bit the proverbial underdog. When he was a kid, his father was never interested in him as he saw more potential in Tom and so he always has a point to prove. Brendan enters into the Spartan competition despite his wife's opposition and begins training with his former mentor Frank (Frank Grillo).

That's the core of the story, two brothers who haven't spoke in decades entering a big Spartan MMA championship with a huge 'winner take all' cash prize. As the two fight their way through the championship we can see they are on a parallel course into an obvious collision.

The brothers also harbor deep resentment towards their alcoholic father, whom they blame for their mothers death, and for mistreating them. No one could have played this redemption seeking, guilt ridden yet trying to pull himself together father as Nick Nolte did. In one of the movie's finest scenes, we find the 1,000 days sober father in a hotel room drowning his sorrows with empty bottles strewn across the floor after being berated by Tommy the night before. Beautiful acting from all three men! I won't say which brother wins but it is one hell of a thrill ride to get to that point.

The Warrior takes you on an emotional roller coaster inter spaced with the occasional punch or two and towards the end I was fighting back tears and struggling to swallow from that big lump lodged in my throat!! This movie demonstrates graphically the strength of human nature, and how we deal with life's lessons as individuals to overcome the trials and adversity that it often brings.