2/4

2/4

2.5/4

2/4

3.5/4

2.5/4

2/4

2.5/4

2/4

2/4

2/4

3/4

3/4

3/4

2.5/4

2.5/4

2.5/4

2.5/4

2/4

2.5/4

2/4

2.5/4

3/4

3/4

2.5/4

Next 25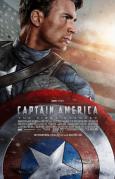 Captain America: The First Avenger
Fondue is just cheese and bread my friend!
3/4 stars
"Arrogance may not be a uniquely American trait but I must say you do it better than anyone else"

Steve Rogers (Chris Evans) was born a scrawny kid from Brooklyn. His one goal in life was to serve his country the way his parents (an army nurse and soldier) did but he is deemed too small and too weak to join the Army. He keeps trying, and eventually submits himself to Dr Erskine's (Stanley Tucci) experiment to create the perfect human. Instantaneously Rogers becomes a poster boy for the Second World War and puts on about eighty pounds, he now runs faster and is stronger than any other human on Earth.

Captain America was conceived as an unapologetically American symbol, designed to boost wartime morale. This is a film that embodies every positive value that we all hold dear and can be appreciated by every American whether or not you've served in the military and/or any branch of public service.
Hugo Weaving who portrayed the antagonist Jonathan Schmidt aka The Red Skull is convincing as a sadistic maniacal genius although his superhuman strength was a little underused. Tommy Lee Jones is Colonel Chester Philips, who is here to make snide remarks in his characteristic drill-instructor staccato while Hayley Atwell is Cap's G-Rated love interest. I recommend this movie to any superhero/marvel fan and there's even an Avengers teaser after the credits.