2/4

2/4

2.5/4

2/4

3.5/4

2.5/4

2/4

2.5/4

2/4

2/4

2/4

3/4

3/4

3/4

2.5/4

2.5/4

2.5/4

2.5/4

2/4

2.5/4

2/4

2.5/4

3/4

3/4

2.5/4

Next 25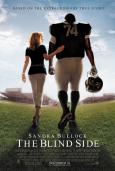 The Blind Side
The most heartwarming film ever!
3/4 stars
I usually don't like the big movies that win all the awards and here the premise is simple and overused: poor African-American kid who looks retarded but is actually quite intelligent gets the attention of a white, Christian family who help him to discover his talent and subsequently lead him to success in his area of expertise, usually sports (football).

Michael "Big Mike" Oher, the young boy in question, is the downtrodden kid from the bad side of town who is taken in by the Touhy family, where he soon becomes one of the family. Sandra Bullock is outstanding as the feisty Leigh Anne and country singer Tim McGraw plays supportive husband Sean credibly. Michael grows to love and care for his family. Because his sense of family is so important to him, he takes his protective instincts to a new level, and it carries over to football with spectacular results. Soon enough he is gaining much attention by American football coaches, who want to recruit the gentle giant.

On the sidelines, there are scene-stealing turns from towheaded Jae Head as the S.J. who captured my heart because he was so pure and sincere about everything he did and Kathy Bates in her usual gutsy-broad form as Michael's tutor, Miss Sue.

An inspiring true story that uses subtle humour to get its messages across and you will feel that genuine warmth that seeps through in each character. The last year we have seen two different and interesting portrayals of disadvantages black youths. In Lee Daniel's Precious, we see the physically and sexually abused and overweight 16 year old girl, who is pregnant with her second baby from her father, who cannot read. With the aid of a teacher, she manages to breakthrough and discover above all else, the power of love. Likewise here, the story isn't just about football, it is about how much can be done when we allow ourselves to look beyond ethnic, racial, and economic differences to actually help others and make a difference.