2/4

2/4

2.5/4

2/4

3.5/4

2.5/4

2/4

2.5/4

2/4

2/4

2/4

3/4

3/4

3/4

2.5/4

2.5/4

2.5/4

2.5/4

2/4

2.5/4

2/4

2.5/4

3/4

3/4

2.5/4

Next 25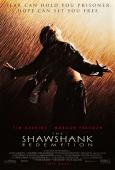 The Shawshank Redemption
Prepare to be moved!
3.5/4 stars
The Shawshank Redemption follows the story of Andy Dufrense, a young banker from Portland, Maine, who is wrongly convicted of murdering his wife and her lover, and sentenced to life imprisonment at the Shawshank Prison. Whilst there, he meets veteran "Red" (played by the brilliant Morgan Freeman) an aged convict who, unlike the majority of the populace, accepts that he is a guilty man. The two develop a friendship over the lasting years which evolve into what could be akin to brotherhood.

Despite being incarcerated for life without parole, Andy maintains hope and puts his financial expertise, to good use, becoming a tax and financial adviser to the prison guards and even the Warden himself. As a reward for these services, Andy is given a privileged job in the prison library and protection from molestation.

His financial adroitness proves to be a double-edged sword. He becomes the victim of his own success when a newcomer is willing to testify to his innocence in the court but the warden regards his accountant too valuable to be expendable.

Splendid screenplay with witty dialog and great performances from all the actors including James Whitmore as the institutionalized prison trusty who becomes suicidal on the outside. The best movies are ones that touch the soul. The Shawshank Redemption succeeds in doing just that.

This is one of those movies that you can switch to when you are channel surfing, and stop and watch the rest of it, no matter what part of the movie you are at. An amazing movie that never gets old, no matter how many times you watch it.