2/4

2/4

2.5/4

2/4

3.5/4

2.5/4

2/4

2.5/4

2/4

2/4

2/4

3/4

3/4

3/4

2.5/4

2.5/4

2.5/4

2.5/4

2/4

2.5/4

2/4

2.5/4

3/4

3/4

2.5/4

Next 25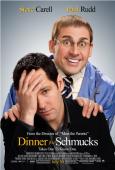 Dinner for Schmucks
It's not as bad as they say!
2.5/4 stars
The plot revolves around Tim (Paul Rudd) an exec desperately looking for advancement at his business in order to impress his girlfriend (Stephanie Szostak) who he continually asks to marry him, and even carries around a ring for. When given the chance of a promotion, Tim jumps at the chance to impress his bosses. He learns that this includes attending a dinner in which employees pride themselves in bringing the biggest idiot they can find, for the amusement of upper management. The person whose guest is the "worst" will snare a trophy AND be a top dog at work. When Tim tells Julie of the dinner, she is appalled and asks that Tim not do such a despicable thing but he can't resist the opportunity when the very next day he bumps into a prime candidate; IRS employee Barry Speck (Steve Carell), a socially awkward taxidermist whose hobby includes taking dead mice and turning them into art pieces, or "mouserterpieces."

While spending some time with Barry, Tim's life spirals out of control. Barry is a genuinely nice guy whose wife left him for his boss (Zach Galfianakis), but while he has good intentions, he's a walking disaster unintentionally causes chaos in Tim's personal life. Even before the dinner begins, he gets Tim in trouble with his girlfriend by giving Tim's address to a sex crazed online stalker Darla (Lucy Punch – Bad Teacher). The dinner at the end is a climax of screwball comedy.

The concept itself is brilliant and many of the scenes were laugh-out-loud funny so if you're just looking for a mindless comedy, then "Dinner for Schmucks" certainly fits the bill.