2/4

2/4

2.5/4

2/4

3.5/4

2.5/4

2/4

2.5/4

2/4

2/4

2/4

3/4

3/4

3/4

2.5/4

2.5/4

2.5/4

2.5/4

2/4

2.5/4

2/4

2.5/4

3/4

3/4

2.5/4

Next 25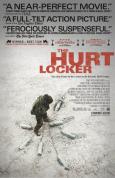 The Hurt Locker
War is a drug!
3/4 stars
~Contains Spoilers~

"The Hurt Locker" is an exposition of the mindless addiction that war can turn into and of the horrors practiced in it. From the very intense opening, Kathryn Bigelow grabs the audience and does not let them go as she meticulously examines the complex realities of war, and the effects that war can have on the psyche of a soldier.

The central axis of the film is around Renner's character SSgt William James who has defused over 800 bombs and approaches the task with a bravado that terrifies his more conservative colleagues. He does NOT do things by the book and seems to take many unnecessary risks. In some ways, he seems like a man with a death wish but he always gets the job done in the most difficult of situations. James keeps little momentums ('signatures') from each bomb he disarms, reveling in the fact that it could've killed him as we understand that this is James' drug.

In fact the movie's opening line essentially captures his ethos; "The rush of battle is often a potent and lethal addiction, for war is a drug." Jeremy Renner does a brilliant job of portraying James, a man who isn't satisfied with a normal life and needs the thrill of life and death situations that he became addicted to and he's not ready to come down from that high. The cereal aisle scene in the super market is especially effective when our hero gets to go home for a period of time, and we can see that he is not ready to be integrated back into society. Instead he volunteers for another tour and soon James is back in Iraq, starting all over again his 365-day duty rotation. War may not be drug to every soldier but to James, it's all too clear that as long as bombs are to be defused, his place is there.

War movies have never been my cup of tea, but I decided to give 'The Hurt Locker' a shot. I am not sorry I did….this one that will stay with me for some time to come. A little cheesy, I know. But I really loved this movie.