3/4

2.5/4

2/4

3.5/4

3/4

3/4

2.5/4

3/4

3/4

3/4

3/4

3/4

2.5/4

3/4

3/4

2/4

3/4

2/4

3/4

2/4

3/4

2/4

4/4

2/4

2.5/4

Prev 25 | Next 25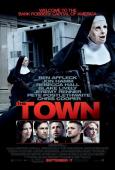 Town, The (2010)
Excellent Crime Drama!
3/4 stars
Ben Affleck is Doug, the leader of a successful, accomplished bank robber crew composed of longtime friends who have operated as a group for some time. During one particular job, they grab a hostage Claire (Rebecca Hall) into the getaway truck just in case, but drop her off after they have shaken off police pursuit. Unfortunately she lives right in the neighborhood, hence a sufficiently significant risk for the gang to have Doug befriend her at a "chance meeting" to see if there is any danger that she might recognize one of them (despite their masks and her blindfold).

Predictably, a romance blossoms between Doug and Claire, but the gang's lethal member, Jeremy Renner, doesn't like it. And a tenacious FBI agent Jon Hamm draws closer to the boys' identities. He wants to bring the boys down before they strike again. Will Claire find out that her new-found lover is also her one-time abductor?

Renner's performance was excellent right up to the end. He is perfectly cast as the friend who can go nuts at any point and even Blake Lively did well as his hooker sister. The FBI leader was pretty good and easy on the eye and the action scenes were intense. A superbly made, gritty drama that truly confirms Affleck is a directorial force to be reckoned with and that his astounding Gone Baby Gone was no fluke.