2/4

2/4

2.5/4

2/4

3.5/4

2.5/4

2/4

2.5/4

2/4

2/4

2/4

3/4

3/4

3/4

2.5/4

2.5/4

2.5/4

2.5/4

2/4

2.5/4

2/4

2.5/4

3/4

3/4

2.5/4

Next 25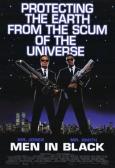 Men in Black (1997)
Men in Black (1997)
3/4 stars
Men in Black has something most movies don't, and that's style. This movie is just oozing with style. First of all, yes, aliens are trying to destroy the Earth. The difference here is that it's not a bunch of earthlings coming together in a time of need to defend the planet from unknown life-forms. Here, aliens live among us (Steven Spielberg, Danny DeVito, Sylvester Stallone, New York weatherman Al Roker, and Dennis Rodman to name a few).

Tommy Lee Jones plays the upright Agent Kay who is a seasoned veteran of the top secret government agency that monitors and controls all activities of extraterrestrial life secretly living among our society. They keep track of the aliens and help them to blend in among us humans in exchange for alien technology. One of the funniest scenes is the airport-like terminal where the aliens come into the country (of course they come through New York), sometimes just for lunch.

Agent Kay recruits a brash, smart-mouthed N.Y.P.D. Officer James Edwards Smith to join him in keeping the peace between human beings and "resident aliens" after he successfully pursued an alien in the streets of New York City. Together they unite to thwart an infamously violent alien who has arrived on Earth to assassinate two ambassadors from opposing galaxies. In order to prevent worlds from colliding, the MIB must track down the terrorist and prevent the destruction of Earth. Can the MIB stop the giant bug before the alien race Arquillans declare war on our planet?

The interaction between Tommy Lee Jones (K) and Will Smith (J) is hilarious; they're complete opposites, which make them so great! And let's not forget the beautiful Linda Fiorentino (Dr. Weaver). Vincent D'Onofrio was brilliant as Edgar the bug. Men in Black has aged well: the jokes are still fresh, the story is still fairly engaging, and the atmosphere and charisma of the film is unaffected. I'm not a big sci-fi fan, but overall, I found it pretty funny.