2/4

2/4

2.5/4

2/4

3.5/4

2.5/4

2/4

2.5/4

2/4

2/4

2/4

3/4

3/4

3/4

2.5/4

2.5/4

2.5/4

2.5/4

2/4

2.5/4

2/4

2.5/4

3/4

3/4

2.5/4

Next 25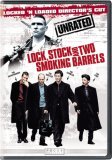 Lock, Stock and Two Smoking Barrels
Lock, Stock and Two Smoking Barrels (1999)
3/4 stars
Four very inept criminals, one a cardsharp (Nick Moran), another a future entrepreneur (Tom Flemyng), a third named Bacon (Jason Stratham) and the fourth called "Soap" because unlike his three mates, he likes to keep his fingers clean by dabbling into a legitimate occupation, baking (Dexter Fletcher) find themselves in a desperate situation when, following a poker game with a notorious London gangster named Hatchet Henry, who has rigged the game, unbeknownst to Eddie. When Eddie loses the money the quartet now owe the mobster half a million pounds. Harry's collector, Big Chris (Vinnie Jones), has been assigned to make sure the boys pay within a week or start sizing up their fingers for amputation.

There are twists, turns and intersections in this story that it keeps you guessing at how each subplot affects the others and have you drumming your fingers waiting for that inevitable collision that is bound to happen. The movie contains a nice selection of upcoming stars and some old favorites (I include Vinnie Jones, because he was absolutely amazing.)

This film covers a lot of genres, it is a comedy with great lines and visual gags, it is a drama which gets into all the characters, and it is a thriller which really keeps you on the edge of your seat. Great action, cool soundtrack, catchy camera tricks, lots of laughs.... ok, a bit of gratuitous violence, but on the whole, immensely enjoyable.