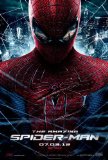 The Amazing Spider-Man
The amazing spiderman
2.5/4 stars
one word : Its not that amazing!!!!!!
Details : The biggest draw back of this movie that we have to see everything again in a bit diff way can help since its a reboot, going on the "bad guy" in this movie was not that powerful at u can see in previous editions of spiderman, like doc-oct or grean gob, good thing about movie is of course Anderw garfield,
he is was good.
overall i can say that movie was not made well, hope to see next better next editions.