2.5/4

3/4

3/4

4/4

3.5/4

4/4

2/4

3/4

4/4

1/4

4/4

3.5/4

0.5/4

3.5/4

3.5/4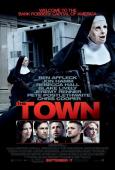 Town, The (2010)
The Town review
3/4 stars
The Town is Ben Affleck's second movie as a director. His first was Gone Baby Gone, a superb movie. He showed great promise as a director. Unlike in Gone Baby, he stars in this one. He plays Doug MacRay, the leader of a Boston bank robbing gang. In there last heist, Jem (Jeremy Renner) the most violent member of Doug crew, takes a bank manager Claire Keesey (Rebecca Hall) hostage. They let her go. Then they find out that she is from Charlestown, the place that they live. Jem things she might have seen something, and wants to find out how much she actually knows about the crime. Doug offers to do it instead. He fears that Jem will do more than just have a friendly chat with her.(he had good reason to think that).

But then he starts to fall for her. Things are getting even worse. An FBI agent(Jon Hamm) is trialing his gang all over Charlestown. He has a pretty good idea who he is looking for. With the FBI closing in and his friends questioning his loyalty, he has a hard decision to make. He has the choice to betray his best friends or lose the only woman he has ever really loved. There were to main parts to this movie, the heist parts, and the love story. The love story was actually handled very well. That is thanks to the script. The Heist parts were good. They contained a lot of action. I did have one problem with the action though.

With so much close range gun fights, no one ever really gets hit unless the movie requires it. That was a pretty big issue for me. It made some of the action scenes less enjoyably then they could have been. Overall the action scenes are decent. The cast does a good job. I really liked Jon Hamm here, he aced it. Jeremy Renner gives the standout performance though. Renner plays the role with great emotion and ferocity. He is as good as he was in The Hurt Locker. That is two great performances in a row by Renner. I do wish that Renner got more screen time. One problem I had with the cast was Blake Lively. She wasn't bad, here Boston accent was bad.

It got on my nerves a little bit as the movie went on. It kind of reminded me of Brad Pitt's bad Irish accent in The Devils Own. Brad Pitt did redeem himself however with his amazing accent in the movie Snatch. So maybe Blake Lively will get her accent down in some future movie she does. Ben Affleck gives a good performance as well.

Ben Affleck has gotten a ton of hate throughout his entire career. He has deserved some of that, remember when he did Gigi. That movie was so bad that I wanted to forget I had ever saw it. After that movie I was in no rush to see another Ben Affleck movie. Lately though he has turned it around with some good performances and showing us that he can direct well. Still people are hating on him, saying he can only make good movies that are set in Boston. That may be true, but he is just sticking to what he is good at. Is that such a bad thing. I always love the atmosphere Affleck has got to his movies. It is obvious that he knows Boston extremely well. I found myself wanting a little more depth to it, like Affleck's other movie Gone Baby Gone. Still, this is a good heist movie.