2.5/4

3/4

3/4

4/4

3.5/4

4/4

2/4

3/4

4/4

1/4

4/4

3.5/4

0.5/4

3.5/4

3.5/4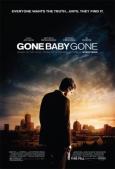 Gone Baby Gone
Gone Baby Gone review
3.5/4 stars
There have been crime movies that have taken place in a few different cities, but Boston seems to be the main one where everything just has a lot more depth to it. Everything seems a lot deeper, from the characters, to the atmosphere. Gone Baby Gone is based from one of Dennis Lehane novels. One of his novels has already made the big screen. That would be Mystic River. Clint Eastwood directed Mystic River, and he set the bar extremely high in his suburb adaptation of Lehane's compelling story. Which director takes on Gone Baby Gone, that would be Ben Affleck in his directional debut. His acting can not even be compared to Clint Eastwood, but now he tries to see how good he can be behind the camera. He does not disappoint. As you may have already guessed, this movie is set in Boston.

Gone Baby Gone is about two local private eyes and lovers, Patrick Kenzie (Casey Affleck) and Angie Genarro (Michelle Monaghan) who are hired by the aunt and uncle (Amy Madigan and Titus Welliver) of missing neighborhood girl, Amanda McCready. Although the Boston police, and missing children unit leader Jack Doyle (Morgan Freeman) and his two detectives Remy Bressant (Ed Harris) and Nick Poole (John Ashton) are looking for Amanda with great effort, Amanda's family has went and hired Patrick and Angie to help track down leads from some of the locals that will not speak to the cops at all. During Patrick's and Angie's they soon discover many layers of secrecy and corruption. This includes Amanda's drug addicted mother Helene (Amy Ryan), who seems to no more about this crime than she is telling the police. The deeper Patrick digs into this entire investigation, he finds himself at the point where it is extremely difficult to distinguish right from wrong. That is enough of the plot.

Now for the direction. Ben Affleck would have gotten so much hate if this movie had failed, I mean he even cast his little brother in the lead role. Well luckily, this movie succeeds on so many levels. You can tell that Affleck has his own understanding of his hometown. Affleck shot on location, and even cast local people with no acting experience for some of the smaller roles. Affleck just really knows the neighborhood, he captures everything about it. The acting is great from everyone. 2007 was a break out year for Casey Affleck, he had the assassination of Jesse James by the Coward Robert Ford, and then he did this one. Little Affleck gives a great performance, he subtly captures his characters conflicted felling. Morgan Freeman and Ed Harris both deliver very solid performances as well, the standout performance though was from Amy Ryan, who played the drug addicted mother. She gives a strong emotional and complicated performance. She nails everything here. Even the accent, witch is not an easy task. Michelle Monaghan was the weakest out of the cast. She was good, but there was nothing that special about her performance.

This movie is so much deeper than, here is the good guy, and here is this bad guy. Now the good guy has to get the bad guy. There are secrets I cannot reveal about this movie, but I give props to the screenplay. It is has great dialog for one, and it also conceals these secrets so well, and when they are finally shown, everything comes into place. Some of the clues are literally right in front of you when they happen, but there is know indication that they are even there. The characters don't look up and give it away. There is no close ups of the character that just tell us that was a clue, I really liked how they handled that. This movie is deep, it focuses on the characters choices and what kind of impact that decision has made. It also shows how the characters feel after making that decision, that was handled very well.

It also contains many messages, mainly dealing with the difference between right in wrong. It seems like everyone already knows that message. Still the movie handles every accept of that with great care. As you can probably tell, this is a dark movie, and the thing that always help set that dark mood, or any mood for that matter is the score. This movie has a pretty good one overall. Gone Baby Gone is engaging, chilling, and suspenseful. The suspense will keep you guessing and keep you on the edge of your seat the entire time. The movie is well executed. Aside from Mystic River this is the best movie that deals with children in these horrible situations. As Remy says:"Kids forgive, they don't judge, they turn the other cheek, and what do they get for it".