1/4

4/4

3/4

2.5/4

3.5/4

4/4

3/4

3.5/4

4/4

4/4

1.5/4

2/4

3/4

4/4

2.5/4

3/4

4/4

3/4

4/4

3/4

1/4

1.5/4

3/4

3.5/4

2.5/4

Next 25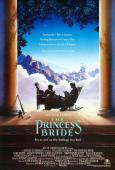 The Princess Bride
R.O.U.S.
3/4 stars
The great fairytale story of how love can conquer all. Then throw in some fighting and monsters and evil plans and you have a movie guys will enjoy too.

I remember watching this movie when I was younger and laughing at all the funny parts. And now that I'm older I laugh at the same parts but now I understand why they are so funny.

Well written, well directed and a great cast.

Robin Wright (I think before she was with the Penn) and Cary Elwes are great young lovers. Everyone loves Peter Falk as the grandfather, and he's such a likable person to begin with. Back when wrestling was WWF Andre' the Giant is one of the best comic relief roles I've seen in a movie. Though the best role and actor in the film is Mandy Patinkin; I would have loved to see a movie just following Inigo.

Timeless story of love.