1/4

4/4

3/4

2.5/4

3.5/4

4/4

3/4

3.5/4

4/4

4/4

1.5/4

2/4

3/4

4/4

2.5/4

3/4

4/4

3/4

4/4

3/4

1/4

1.5/4

3/4

3.5/4

2.5/4

Next 25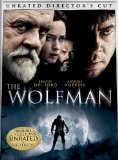 Wolfman, The (2010)
I see a Full Moon rising....
3.5/4 stars
Alas, I am long overdue with my official review of the remake of a classic; Universal monster 'The Wolfman'. Of course, spoilers are contained within.

Originally made in 1941 by Universal Pictures as part of a new rising of monster movies; this is often credited as a launching movie for Lon Chaney Jr. (often billed as just Lon Chaney) but not to be confused with his father; of the same name.

I am going to just come out and say what a lot of people (sadly) are not saying. I loved this movie. My admiration of this movie has only grown since I saw it nearly 2ish weeks ago. I am quite certain I will probably end up going to see it again in the theaters before it's gone.

The most common word I had seen in reviews describing this movie was 'boring'. So, when I went to see the movie I did lower expectations and was waiting for the 'boring' parts. I never saw a boring part. I thought it was very well done. Sure, yes...there are flaws that I think could have been a bit better. But, a movie as a whole; I thought it fully delivered. When the movie finished, I found myself wondering what was boring about this movie. I have a few friends who saw it and they said the same thing. I don't remember the reason they said, so I can't pull anything from there...but honestly, I did not find anything boring about this movie.

First, the all around look. It was a period movie; much like the original. I'm glad they kept it that way in this movie. Sure, I would LOVE to see a bad-ass wolfman terrorizing a modern world...but let's introduce people back to what werewolves are supposed to be. Werewolves have been poorly represented in movies for a long long time. I don't think there's really been a decent werewolf/wolfman movie since the 1980's; An American Werewolf in London, The Monster Squad, The Howling...brilliant werewolves. The cinematographer is Shelly Johnson, a guy who has worked with director Joe Johnston before; and is apparently doing the Captain America movie for 2011. It had a great classic monster movie look; very dark, strong earthy colors and and all out nature-al feel.

I guess since I mentioned him, I should segue to Joe Johnston. Familiar works would be Jurassic Park III, Jumanji, The Rocketeer, October Sky...and is also directing the new Captain America flick. I feel he did a very good job.

Benicio Del Toro was a great Lawrence Talbot (and I'm sure it helped that this was a pet project of his). Many people comment that he didn't play a sympathy much; as a man being cursed...and yes I will admit that some character development was not developed as much as I would have preferred, but I was still sympathetic. Plus, watch the 1941 version. Lon Chaney does play great sympathy towards the end, but at the beginning he seems like a creepy stalker. I was skeptical about Del Toro at the beginning, but after seeing it...I believe it.

Anthony Hopkins was, for lack of a better word...brilliant. Again, slack was given that he had a very dry and non-emotional performance. Guess what people...that's the part of the father in this one...a heartless, cold bastard. Deal. It's not even close to being like the original one where Talbot Sr. is a good, stand-up guy who in the end has to kill his own son. Mr. Hopkins did a great job and I can find no error in what he did. And I don't genuinely believe they were trying to hide the fact that he was a primary antagonist/villain in this movie.

Yes, it's quite obvious in very early on; and I appreciate that fact they didn't try to throw a bunch of red-herrings in to try and "throw us off". Many will argue is a 'villain' was even needed...maybe yes, maybe no. The final battle between father and son was a bit ridiculous, but I was kind of excited to see two wolfmen going claw to claw. I would have appreciated just more bits of Lawrence Talbot terrorizing London and having to deal with his curse and the things he's done over some of the drama with his dad....but I'm guessing some of the battle stuff and such was included because the general public likes more action and such in a movie like this...and unfortunately, a lot of things come down to box office pulls.

I can not leave out the two other main supporting leads, Emily Blunt as Gwen and Hugo Weaving as Abberline. I've enjoyed Emily Blunt after seeing 'Sunshine Cleaning', and even more so after 'The Great Buck Howard'. She was a good match to include in this movie and at times I did find it odd how quickly she came to love Lawrence, and forget his brother (to whom she was engaged)....but hey, people cope in different ways I suppose.

I thought it was a awesome to pull in Abberline to the story. If memory serves me correctly, he was a detective on the Jack the Ripper cases in London (as they eluded to in the movie). I heard that, and I was immediately thinking that would be a great movie to spin-off to. Go back to the Ripper cases and have that lead to many other fictional/factual supernatural cases. Weaving added a bit of a dry humor to the movie and was a good additional to the ensemble.

The special effects were very good. I do wish they would have focused a little more on the first transformation; and made it more understandable how painful that transition actually could have been. The 2nd one pulled off a little more of that. However, again I can understand why they didn't (I'll get to it later). Some of the gore I felt was a bit over-the-top and could have done without. Decapitation is always difficult to pull off well in my book and should generally be left with a 'less is more' sort of ordeal when showing that. I got a kick out of the fact that the wolfman could walk like a man, but then seemlessly shift into a more primal mode of animalistic motions like running on all fours. I will add, I did not like the few shots where they cut to a front close-up of the wolfman while he was running like this and it was very very obvious it was a green screen.

Lastly, I do want to address that many people were making comments that the scares were either forced...or that this movie wasn't scary enough. The thing is...the way I see it...it's a monster movie...not a horror movie. Horror flicks, you go to see people die...you go to see how they will die...you go to get scared by things like that. This was a Monster Movie...you go for the monster. It's almost how I saw Rob Zombies 'H2'...it wasn't so much a horror or slasher flick...but a monster movie on how this monster called Michael Myers was evolving to become a more brutal psychopath.

My final verdict....3.5 out of 4 stars. Not perfect...some flaws...but I can easily look past them because they did not pull me from the story. Execution of most things were done very very well; and again did not distract from the story. Would have loved more development with some of the characters (more trauma with Lawrence dealing with being this cursed monster; more development of the relationship between he and Gwen); would have liked to see more focus on the pain of the curse...but again this is a movie about the monster and how control of this thing is not one that can be gained lightly. Of anything...it's still a monster...regardless of how much control you think you may have.

I hope this movie helps bring the Wolfman and Werewolves back to the movie the way they should be. Bring back the old myths and legends about them. Honestly, I would love to see Universal make more dark monster remakes, and then even band them together again at some point. Not so much like 'Van Helsing'...but dark. It's playing perfectly in my mind......