3/4

3/4

3.5/4

3/4

3/4

2.5/4

3/4

3.5/4

3/4

3.5/4

3.5/4

2/4

3.5/4

3/4

2.5/4

2.5/4

4/4

2/4

3/4

3/4

2.5/4

2.5/4

2.5/4

2/4

3/4

Next 18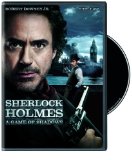 Sherlock Holmes: A Game of Shadows
Review of Sherlock Holmes: A Game of Shadows
3/4 stars
Certain actors in this world have an unmistakable talent for taking a character and making it uniquely their own. Johnny Depp did it with Captain Jack Sparrow; no one could match Chevy Chase's version of Clark Griswold; and Robert Downey, Jr. has become the modern day face of Sherlock Holmes. I'll admit that, although I have never once actually read a Sherlock Holmes novel (my apologies to Sir Arthur Conan Doyle), I was entirely hooked on Mr. Holmes (AND Robert Downey, Jr.) after the first installment of the film, and was enthusiastically looking forward to Sherlock Holmes: A Game of Shadows for the entire two years it took to be released. Now, let me tell you if it was worth the wait….

THE GOOD: This time around, Sherlock and Dr. Watson (played again by Jude Law) are joining forces to combat their incredibly intelligent/devoid of a conscious adversary, Professor Moriarty (Jared Harris). The good news here is that if you enjoyed the first film's use of slow motion action sequences and Holmes' way of explaining beforehand exactly how he intends to pummel someone, then you will be pleased to know that it has been included in this film as well.
Set in 1895 Victorian London, the scenery is dark and dreary, and the costuming—aside from a couple weird items that Downey ends up sporting—is certainly sufficient for transporting a person back to that time. The chemistry between Holmes and Watson is ever present, although this time around it tends to come across as less humorous and a little more—well, for lack of a better explanation---like there is a serious Bromance going on. Granted, Watson gets married and sets off on his honeymoon in this sequel, yet Holmes is somehow along for the ride there too, which has to please the new Mrs. Watson no end. Certainly that feeling is magnified when she gets thrown off a moving train by Holmes in an effort to protect her. Given that I have a relatively large crush on Jude Law, and found Mary (Kelly Reilly) to be somewhat stuffy and clearly not good enough for him, this scene was one of my personal favorites. Perhaps that isn't particularly objective when it comes to reviewing a movie though
.
THE BAD: I like to think that I am a relatively intelligent person, in general. I'm capable of having an informed discussion with others on topics that range from politics to, well, celebrity gossip…..but somehow, I was just not smart enough to follow the plot of this movie. I was able to surmise that Professor Moriarty was up to no good, that he felt a mixture of respect and loathing for Sherlock Holmes, and that Holmes was trying to stay one step ahead of him to keep bad things from happening. Also, I think it might be helpful if you understand the game of Chess, which I do not---there seemed to be a lot of references to Kings and checkmates. Aside from that, it was all sort of a blur. Guy Ritchie, the director, seemed content to inject as much action into this film as possible, but obviously felt that the witty banter and clear cut plotline of the first movie was no longer necessary. And that's where the disappointment hit me----this movie wanted to be a stallion but it ended up being a Shetland pony. It was longwinded and hard to follow. Its saving grace, aside from the obvious "easy on the eyes" factor of Downey and Law, was the chemistry between them. Please don't misunderstand me: this film is full of breathtaking scenes of suspense and action, and I wasn't sorry I spent my time or money watching it. But the brutal truth is that it wasn't as good as the original, which seems to be true for just about every sequel I've ever seen. It's like a curse. Yet I'm still happy that they decided to chance it and give me the opportunity to see this team together again….despite it falling short of perfection, it will definitely end up in my DVD library, next to the first one.

THE UGLY: As previously mentioned, I have never read the Sherlock Holmes books, so I was unaware that he had a brother by the name of Mycroft (played by Stephen Fry). Although a likeable fellow, he clearly has a penchant for embracing the quirkiness that seems to be part and parcel of being of this bloodline. With Sherlock, we see the oddness being manifest in moments of appearing dazed and confused, sometimes bordering on psychosis, as he pieces together clues. For his brother Mycroft, however, the weirdness is all about walking around in the nude, and seeming completely oblivious to everyone's discomfort. All I'm saying is that if SOMEONE had to be naked in this film, there were some better choices. Dear Guy Ritchie: contact me for suggestions before filming number 3.

The Trophy Wife gives this movie 3 ½ trophies.

Sherlock Holmes: A Game of Shadows has a running time of 129 minutes and is rated PG-13 for intense sequences of violence and action, and some drug material. No F Bombs were dropped.