4/4

1.5/4

3/4

3/4

2.5/4

3/4

4/4

2.5/4

1.5/4

2/4

3/4

3/4

2.5/4

4/4

3/4

2/4

2.5/4

0.5/4

3/4

4/4

3/4

3/4

2.5/4

1.5/4

4/4

Next 25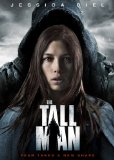 Tall Man, The (2012)
Thoughts around The Tall Man
3/4 stars
As usual when I review movies here, I will talk about my thoughts around the movie, rather than the movie itself, as you learn everything you should know from the plot outline before you see the movie.

I agree with the other gentlemen here that this was certainly not what I expected at all. I too got a thing for Jessica Biel, the story facinated me, and on the overall this was a solid movie. I do have some issues with the label this movie has gotten. In my mind this is not a horror movie at all. It's disturbing, yes but on a purely psychologial lvl, something in my book makes this a mystery thriller.

I like movies that stand out and got an original idea and a clever and well developed plot, and this movie was just like that. The plot outline would if I didn't see Jessica Biel in it most likely at least make me wait to watch it, because based on that I have seen so many movies like it before. However as I said I like her quite alot I decited to see it now. And I am happy I did. A point made by the other reviewers was that it was hard to predict how this movie would develope, and I agree on that one. Several times I found myself asking, what the heck is going on here? When I though I had things figured out, the plot changed and I was once again baffled and confused. That doesn't happen to often. Well I am often baffled and confused, but not because of a movie, hehe.

This was a good movie, and I can heartily recommend it to anyone that are up for a good mystery movie. Fully deserving 3 stars.