1.5/4

2.5/4

3/4

2.5/4

3/4

3/4

2/4

3/4

2.5/4

3.5/4

1.5/4

1.5/4

2.5/4

3/4

2/4

3.5/4

2.5/4

2/4

2/4

1.5/4

3/4

2/4

2.5/4

3/4

3/4

Next 25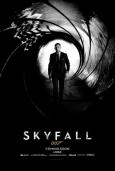 Skyfall
One of The Best Ever (But Not The Best)
3.5/4 stars
I am a James Bond fan. I have seen all 23 films and enjoy many of them (particularly my top 12 on my current list). But, none of them are 4 star movies and none make it into my top 100. So why do I enjoy James Bond movies so much? There are 7 basic components of a Bond film that can make or break a movie. If you were to combine many of the great 007 movies, a person could easily make 3 to 5 of the greatest movies of all time. Unfortunately, that hasn't happened (yet - I am still hoping) but this is a great one.

#1 Style - I am talking style of the character. What he wears, how he talks, who he talks to, what they wear, what weapons they use. Throw in some good scenery and cars (also on this list) and you have the core of a James bond movie. Skyfall almost nails the Style aspect. Craig looks nearly perfect, Bardem looks like a crazy killer, and the cars and scenery fall into place. Then throw in a lot of references to the old bod (particularly the ending which is fantastic).

#2 Villain - The best villians don't always make the best Bond movies but Jaws is a good example, so is Dr. No, Blofeld, Scaramonga, and there are a select few others that do make good movies. Now, add Bardem as Silva (the name doesn't matter). Move over Daniel Day Lewis, Javier Bardem is incredible. He does an amazing job in this movie. Very believable (as is the story). One of the more memorable villains - reminds me of a comic book villain.

#3 Cars - Aston Martin. This says it. And guess what? This one has one of the best of all time, complete with all of the gadgets one could ask for. Though it is not featured as much as I would like, it makes a big enough splash to make it special.

#4 Cinematography - Sam Mendes typically brings a unique style. I am pleased, but disappointed in what he was able to accomplish. Yes, this is one of the best looking bond movies in over 30 years, but I felt it should have been even better. Still, almost every shot is incredible and there are some really amazing scenes in an office building, overlooking a hotel - not to mention countless other frames. Check.

#5 Music - I say music because both the cover song and the score is important. Adele's song is a perfect fit for the credits. Not my favorite, but better than many. The score is really well done at times, but in other moments feels average and maybe a bit too much like the Bourne series. Still, the classic notes ring true and I would say it is well well above average.

#6 Story/Action balance - One of the least important aspects of the movie (unless there is too much mindless action). This is a good story - easy to follow. And they didn't jam a bunch of pointless action into it. There is a bit too much action for my taste (the beginning and end action sequence) but other than that, not too bad. Bond's back story was kind of interesting, but not necessary for me.

#7 Bond Girl(s) - There are some great ones (Dr. No and Man With The Golden Gun have my favorite ones), but this one doesn't really hit a home run. That is not necessarily a bad thing. In many Bond movies (including Casino Royale) the girl can add too much cheese to the story line and really make the movie even more unbelievable than it is) . Solid characters, but not really hot enough.

So why only a 3.5 star movie? There is at least one awful scene that lasts only a fraction of the second, but it left me rolling my eyes and almost angry. That's one strike against a 4 star movie. And, I still expect more. I can tell Same Mendes was held back on his style, music, and cinematography. I could only imagine how good it could have been if he was set free or if someone like Quentin Tarantino could take a stab at it.

I doubt we will ever be given a free range bond movie - one that could truly be a top 100 movie, not when movies like Skyfall are so good (not incredible) and rake in over $400,000,000 at the box office. This kind of movie may be the best we get, but I guess I'll take it!