1.5/4

2.5/4

3/4

2.5/4

3/4

3/4

2/4

3/4

2.5/4

3.5/4

1.5/4

1.5/4

2.5/4

3/4

2/4

3.5/4

2.5/4

2/4

2/4

1.5/4

3/4

2/4

2.5/4

3/4

3/4

Next 25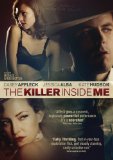 Killer Inside Me, The (2010)
Violent, Yet Well Done
3/4 stars
I was able to see this with Movies On Demand in my own living room, even before it is released to theaters. Pretty good idea for these types of films. I felt this was a really good movie. One of the better ones I have seen since Oscar Season.

Casey Affleck (who is infinitely better than Big Ben), does a stellar job as a small town Deputy Sheriff (or something like that) in the mid 20th century. Not only was his performance good, the whole cast acted really well.

The story is interesting - a killers story told in the first person. So for once, we are finally able to see what a killer is thinking and why the person does it. I was never really bored and I enjoy watching the entire story. I can't say a whole lot about it other than it is definitely worth watching.

Be careful. It is very violent to women. Still, I wouldn't be surprised to see something pop up for Globes or Oscars. Best since Shutter Island.