1.5/4

2.5/4

3/4

2.5/4

3/4

3/4

2/4

3/4

2.5/4

3.5/4

1.5/4

1.5/4

2.5/4

3/4

2/4

3.5/4

2.5/4

2/4

2/4

1.5/4

3/4

2/4

2.5/4

3/4

3/4

Next 25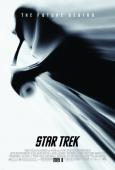 Star Trek
A Reboot To A Long Summer
3/4 stars
I am a decently sized Star Trek: The Next Generation fan, but I wouldn't call myself avid. I enjoyed the 60s version but don't remember much about it. I love sci fi movies. This movie was above average but I expected so much more. The trailer was amazing, the music in the trailer was great, and the action looked incredible. I never really knew what the story was other than the standard "Kirk and Spock" grow up together plot.

The action was pretty good, the special effects were good but beyond that, I can't say much else. Yeah, it was good to see the old crew back together but there were a lot of forced lines and forced relationships that I didn't enjoy. If you are going for a total reboot here, reboot it with a power punch, not just an action flick. Also, the music bothered me. It kind of blew and contained little of the original. But, it did contain some of the original sound effects - which was cool to hear again.

The story is thin and the time travel aspect of it really disappointed me. Basically, as I predicted, they cheated. This is something that even George Lucas didn't mess up with Star Wars. I am going to re-boot Indiana Jones - hell even Citizen Kane. All we have to do is throw in a little time travel. Give me a break!

JJ Abrams should stick to being a creator and TV producer (maybe even do some story writing) but leave the directing up to the experts. he doesn't have a good film under his belt and all of his ideas (at least the good ones) are directed by someone else.

I would rank this one behind First Contact, Nemesis, and Generations (and maybe even many of the older movies as well). If this is what we have to look forward to as far as summer movies go, it is going to be a long summer. I didn't hate it but I didn't love it. Maybe you will?