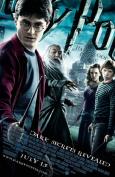 Harry Potter and the Half-Blood Prince
3.5 for Half-Blood Prince
3.5/4 stars
As a movie by itself, I thought it was very entertaining and kept me interested throughout. As a movie in the Harry Potter movie series, I thought it flowed well with the others. As a book adaptation, though, I was rather disappointed. I did not, however, go into the movie expecting to get dazzled. The others had left me disappointed from a "bo...