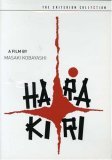 Harakiri ( Seppuku )
Deromanticizing Samurai Honour
3.5/4 stars
Lots have been said, written, sung, played and put to film about the Samurai mythos. In all contemporary works regarding these mythical warriors there is a common word that keeps popping up: honour. Samurai are presented as honourable soldiers that hold this principle in the highest of esteems. Yet, much like every other act of representation of g...