2.5/4

2.5/4

1/4

3.5/4

3.5/4

3.5/4

2.5/4

2/4

4/4

3/4

3.5/4

3/4

4/4

3/4

2.5/4

2.5/4

4/4

2/4

4/4

4/4

3/4

3.5/4

3/4

2.5/4

3.5/4

Prev 25 | Next 25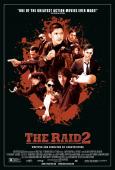 The Raid 2
The Raid 2 review
4/4 stars
"It's a matter of limitation. And the importance of knowing yours."

This reminded me of a combination of Oldboy (hammer usage and choreography), Bourne Ultimatum and violence of Reservoir Dogs/Kill Bill. It had that The Departed like plot and characters were just very interesting. It starts with Rama (Iko Uwais) being recruited by good cops to go undercover against Uco (Arifin Putra), son of a gangster. Rama agrees since Bejo (Alex Abbad) killed his brother. Hammer girl's entrance was suave, baseball bat man was freaky, Rama just authentic acting and kicked major ass. Violence was so realistic and fight scenes so innovative. even the shaky camera and cinematography from a far (even car chases) were just stunning. Have to agree with another fellow member that it had shades of Godfather (meeting of the crime bosses and wonderful screenplay). It is impossible not to be dazzled by the fight sequences and be squeamish with the ultra-violent scenes. A definite must have for action aficionados.

You can view the whole film and just see it for its action/scenery and you would not be disappointed.