3/4

2.5/4

2/4

3/4

2/4

3/4

3/4

3/4

2.5/4

3.5/4

2/4

3.5/4

3/4

3/4

3/4

2.5/4

3/4

2.5/4

2.5/4

2/4

2.5/4

2.5/4

3/4

3/4

3/4

Prev 25 | Next 25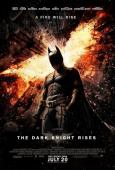 The Dark Knight Rises
Robin and Catwoman
3/4 stars
Gotham City is once again in trouble as Bane arrived knocking down all the people in town and spreads terror releasing prisoners to magnify violence.

***
Finally it came.

The Dark Knight topped my list of action movies. The Dark Knight Rises would probably land not far from it. Honestly, my expectations weren't met by this latest Batman movie, but I wouldn't say it wasn't good. It is good, just that I appreciate more Joker's story than Bane's. The cast intensifies as Anne Hathaway and Joseph Gordon-Levitt came into action with Christian Bale. Lastly, my problem with Nolan's directorship is still there. Just like on Inception, there are several scenes bore me and I find irrelevant.

Too long and exhausting. Nolan should learn to present a great story line and great performances from his cast in a shorter picture.