2/4

2/4

3/4

3.5/4

3/4

3/4

3.5/4

2.5/4

2.5/4

3.5/4

3/4

2.5/4

3/4

2/4

2.5/4

3.5/4

3/4

2/4

3/4

2/4

2.5/4

2/4

3/4

3/4

3.5/4

Prev 25 | Next 25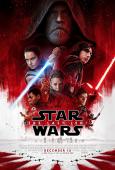 Star Wars: The Last Jedi
The Force is Strong With This One
3.5/4 stars
The Force Awakens brought a new generation into the Star Wars fold, even as it also brought in the nostalgia to remind long-time fans of the original trilogy - at times maybe a little too much nostalgia. Rian Johnson takes the second film and makes it his own. While it does feature a darker theme, in lines with the second film in the original trilogy - Empire Strikes Back, in terms of story it forges its own path, and one that makes this the strongest entry in not only the new trilogy, but much better than the prequels and right alongside the best of the original films.

The Last Jedi picks up pretty much immediately where The Force Awakens left off - with Rey (Daisy Ridley) finally tracking down the reclusive Jedi Master Luke Skywalker (Mark Hamill, in top form) on Ahch-To, where the first Jedi Temple resides. But Rey, wanting to find a hope to spark the Resistance, instead finds a world-weary and quite tired old man, whose past deeds have led him to give up on himself and the Jedi order. But Rey is nothing if not determined and won't let his dismissive nature turn her down.

But as Rey has her own mission, the Resistance is having a much tougher time. After destroyed Starkiller base, and the First Order's superweapon, the heavily-armed militant dictatorship, run by Supreme Leader Snoke (a motion-captured Andy Serkis) has consolidated their powers. They took down the rebellion's home worlds and have spread their might across the galaxy and now work to wipe out the last of the Resistance. Now promoted to general, Leia (Carrie Fisher, in her final performance) works to hold together the remainder of their forces, but faces a desperate struggle to merely survive. Hotshot pilot Poe Dameron (Oscar Isaac) has his own idea of how to survive, even if costs lives while Finn (John Boyega) awakens from his wounds with his new mission to make sure Rey is safe - and makes a new friend in no-nonsense mechanic Rose Tico (Kelly Marie Tran in a role that will surely bring her recognition).

The Last Jedi has everything you could want in a Star Wars movie and so much more. Thrilling space battles, lightsaber fights, emotional reunions, memorable characters, John William's epic soundtrack, cute critters and even a new way to look at The Force. For everything is does well, however, the one thing that keeps me from giving it a perfect score is the loose ends it doesn't tie up. My biggest has to be about Snoke himself, the Supreme Leader was built up as this larger-than-life evil figure, but we learn pretty much nothing more about him. Similarly, other big questions from the first film are either left dangling, while others are answered but seems a bit of a letdown (even if certain answers make sense). It might be a bigger deal for some people, but minor nagging for me.

Questions left unanswered aside, this is not just a great Star Wars movie, but a great movie in general. Both Fisher and Hamill give outstanding performances while Ridley and Adam Driver form a great polar opposite pairing. Boyega and Tran are likewise well-paired while there is enough humor to offset the rather serious tone most of the film takes. In the end, this sets up what is likely to be an epic end to a new trilogy. Heroes rise and fall but the Jedi live on - even in these dark times.


Addendum: It is apparent from the home release that director Rian Johnson was the right person for this job. His passion and respect for this series couldn't come across any better on the documentary that explores just about every aspect that went into making The Last Jedi. Even Hamill, who had reservations about how Luke Skywalker was portrayed, says this isn't his story - and goes along with where this series takes the character.

There are still flaws with The Last Jedi, but quibbles aside, this holds up even better on repeat viewings and as bold a step that has been taken in the storied franchise. People may still be angry over how things turned out, but I, for one, think things turned out for the better and that people will look back on this as one of the better Star Wars films. Plus, when one sees all the work that went into pulling this off, it makes things even better. For once, the special features are just as interesting as the film.