2.5/4

2/4

2.5/4

2.5/4

3.5/4

3/4

3/4

2.5/4

2/4

2.5/4

2.5/4

2.5/4

3/4

3/4

3.5/4

3.5/4

3.5/4

3/4

2/4

3/4

2.5/4

3/4

3/4

2.5/4

2/4

Prev 25 | Next 25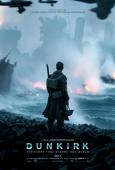 Dunkirk (2017)
Wars Can Be Won by Evacuations
3.5/4 stars
Considering he has already tackled sci-fi, action, mystery, drama, fantasy and thrillers - it seems that war is the next natural step for Christopher Nolan. A director who I have been impressed with ever since Memento - Nolan's films always capture your attention and rarely follows the rules. Memento played tricks with memory, Interstellar did the same with time and what could have been a standard war film turns into something much more mesmerizing and gripping.

Dunkirk is told from three different perspectives: a young soldier (Fionn Whitehead) stationed with hundreds of thousands of other men on the beaches, awaiting rescue or death; a civilian man (Mark Rylance), his son (Tom Glynn-Carney) and his son's friend (Barry Keoghan) as they pilot a yacht, having been one of hundreds of boats commissioned by the military and a RAF pilot (Tom Hardy) who soon finds himself alone, doing his best to protect the men below by clearing the skies above. While each story is played separately, the film does a great job of eventually merging the stories in to one - and it makes for some tense moments.

Nolan chose to cast mostly unknown young actors in the major roles to effectively show the desperation, fear and just how unprepared many of these young men were. Besides Whitehead, we have Harry Styles (best known for his musical talent as a member of One Direction) and Aneurin Barnard. Keoghan and Glynn-Carney also portray how the war can affect you even if you're not on the front lines. The young cast is good, but Nolan also crafted some fine roles for a talented cast including Cillian Murphy as a shell-shocked lone survivor, Kenneth Branagh as the stoic, brave Commander Bolton and Jack Lowden as a fellow RAF pilot.

I also have to commend the music score by Hans Zimmer - you would think a ticking clock would get on your nerves, but in this case it serves as a reminder of how time is such an important factor - from how much fuel you have left to how quickly you can try to rescue people to how quickly things can go from celebratory to tragedy. ZImmer's music plays just as important a part in Dunkirk as any of the actors as far as I'm concerned.

For those in to history - Dunkirk is about 300,000 soldiers - many British, but also Canadian, Indian and many French - who suffered a major defeat and, with their backs against the wall, found themselves stranded at the beaches of Dunkirk. England was so close, you could see it across the channel, but the Germans clearly had the advantage in land, sea and air. When German submarines took out several military targets meant for rescue, a just-appointed Prime Minister named Winston Churchill made the decision to activate a sizable civilian armada to assist in the rescue operations. The call was made and the bulk of the British army (along with the other nations) were indeed rescued. It was a crucial turning point in the war, as had the Germans pressed their advantage, they could have wiped out much of the British army and could have probably taken England itself.

History lesson aside, Dunkirk is a different kind of war movie than Saving Private Ryan. This is PG-13, thus there aren't a lot of limbs being blown up and it's not nearly as visceral an experience. But don't let that deter you - Dunkirk makes up for it by giving you depth of emotion and truly great characters. The civilian story seems to be inspired by the real life story of Commander Charles.H. Lightoller (who was the second officer on the Titanic), and his yacht, the Sundowner, with more dramatic license taken, of course, while Hardy's pilot also has a true-life counterpart in New Zealand Alan Christopher "Al" Deere.

About the worse thing I can assign to Dunkirk is that it is, by and by, a pretty depressing affair. Not that war is uplifting, but if you're looking for much levity at all, you've come to the wrong movie. Granted, I think that is part of the point. While Dunkirk may be one of the shorter film's in Nolan's career, it is also one of his most powerful. He continues to meet and surpass my expectations and I consider him one of the best filmmakers of the modern era and can't wait to see what he does next - and see if Dunkirk gets the attention it deserves.