4/4

4/4

4/4

0.5/4

4/4

1/4

3.5/4

4/4

0.5/4

0.5/4

3/4

4/4

3.5/4

4/4

1.5/4

0.5/4

4/4

2.5/4

3.5/4

2/4

1/4

3/4

3/4

0.5/4

3.5/4

Next 24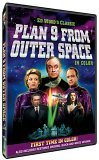 Plan 9 from Outer Space
This Isn't a Movie...It's an ORGASM! :)
4/4 stars
OK, I'm just gonna say it right now: I think Ed Wood is one of the greatest filmakers who ever lived. Hell, he's my fifth favourite filmaker (behind John Carpenter, Stanley Kubrick, Steven Spielberg, and Quentin Tarantino). Seriousely, I love the man's work! Hell, he's one of the reasons why I love Uwe Boll: because Uwe Boll reminds me so much of Ed Wood. I'm NOT joking. Ed Wood has to be one of the happiest and most enthusiastic filmakers of all time, and Plan 9 From Outer Space is the greatest testament to his awesomeness.

I mean seriousely, the fact that he used gasoline-soaked paper plates as flying saucers, and made his actors deliver awesomely awkward dialogue in really fucking weird ways, and the fact that he casted his wife's chiropractor as one of the villians after it's main star Bela Lugosi died....all that is just awesome.

.......

I'm sorry, the badassness of this movie caused me to momentarily die. Anywho, not much else to say. This movie is immortal, and has achieved Enlightenment. Watch this movie whenever you get the chance, and may Ed Wood and Bela Lugosi rest in peace.