2/4

2.5/4

3/4

2/4

2.5/4

1.5/4

3/4

2.5/4

3.5/4

3.5/4

3.5/4

2.5/4

0.5/4

1.5/4

2/4

0.5/4

2/4

3/4

3/4

2.5/4

3/4

3/4

3/4

1.5/4

3/4

Prev 25 | Next 25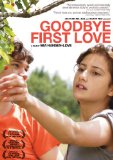 Goodbye First Love ( amour de jeunesse, Un )
From Youth to Youth
3.5/4 stars
In the wake of there being no female-directed films in competition for Cannes' Palme d'Or this year, Un amour de jeunesse aka Goodbye, First Love by Mia Hansen-Løve hits theaters.

Through her gentle style, Hansen-Løve relates a story of a girl named Lola through a period of about eight years. As a teen, she falls in love with a guy named Sullivan (she is a minor and he is not). His memory continues to haunt her until his return years later.

If you caught Hansen-Løve's last film, Le père de mes enfants aka Father of My Children a few years ago, you will probably already know that she is well on her way to developing interesting and complex films.

Unfortunately the bulk of today's audience is composed of people who expect explosions; the sophisticated viewer who doesn't mind an intelligent drama will probably like this film a lot. Keep in mind that it centers around an emotional teen girl. Some may like that more than others.