0.5/4

3.5/4

3.5/4

1/4

3/4

3/4

1.5/4

3/4

0.5/4

3/4

2.5/4

1.5/4

3/4

1.5/4

4/4

3.5/4

1.5/4

2/4

2/4

2.5/4

2.5/4

2/4

2.5/4

3/4

3/4

Prev 25 | Next 25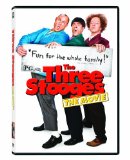 The Three Stooges
Getting Your Nyucks Worth
3/4 stars
The Three Stooges aren't just a few hapless idiots peddling slapstick comedy; for many 'baby-boomers' they were also a treasured childhood element. Starting out as part of a vaudeville act in the late '20's, The Three Stooges became a staple for Columbia pictures, which produced hundreds of their (film) shorts with the original Moe Howard, Larry Fine, and a succession of 'Curleys'. They also garnered a whole new legion of fans with additional exposure in television that lasted well into the 60's. It's very safe to say The Three Stooges are a cultural icon. So what's with these Hollywood mavericks, the Farley Brothers (credits include 'Dumb & Dumber', 'Something About Mary', and 'Shallow Hal') thinking they can tackle something like this?

I had my doubts that this concept could be 'modernized', but now have to admit that Directors Bobby and Peter Farley pulled it off. To start with, they did a fair amount of research and were very careful in picking their principal characters. They even laid this film out in 3 segments to emulate the Stooges original 'shorts' format.

A relatively unknown Chris Diamantopoulos is almost a dead-on Moe, having even gone so far as to come up with a special prosthetic to imitate the original Moe's no-neck physique. Donning the requisite bowl haircut wig and sporting that famous scowl, Chris looks nothing like his actual self. Sean Hayes, most noted for his role as Jack McFarland on TV's 'Will & Grace', is equally unrecognizable as himself when in full Larry make-up. Sean nailed the simple minded sad-sack character of Larry and the wild hair completed the image. Will Sasso, who many may remember from the Mad-TV cast, completed the trio as the dim witted, but ox-strong Curly.

Other major cast members include Jane Lynch ('Glee') as the Mother Superior in charge of the orphanage where the story originates. Sophia Vergara ('Modern Family') plays a cheating wife out to have her husband killed off so she can cash in. The story lines here are hardly original and many of the comic setups are old hat. There's even one scene where the boys end up at a hospital and I half expected to hear the paging system hail 'Doctor Howard, Doctor Howard, Doctor Fine!' – but it didn't happen.

So, the big question is: Did it work? I'd have to say mostly yes. The physical comedy does feel dated in an age where parents emphasize non-violent behavior from their kids. The directors even saw fit to drop in a disclaimer ('Kids, NEVER do this at home') - which would have been unthinkable back in the day the original Stooges made their films. Overall, The Three Stooges film does capture a lot the original flavor of those old short reels. Heck, they even manage to get entangled with some modern day Stooges (hint: 'Jersey Shore'). I'd say, if you were a Stooge fan, you wouldn't be disappointed.