0.5/4

3.5/4

3.5/4

1/4

3/4

3/4

1.5/4

3/4

0.5/4

3/4

2.5/4

1.5/4

3/4

1.5/4

4/4

3.5/4

1.5/4

2/4

2/4

2.5/4

2.5/4

2/4

2.5/4

3/4

3/4

Prev 25 | Next 25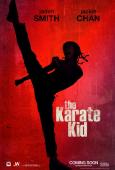 Karate Kid, The (2010)
Above Average Remake
3/4 stars
It's hard to believe the original 'Karate Kid' movie is already 26 years old and I had no idea what to expect from a remake of that original movie. Right out of the gate, we have a change of venue. Instead if importing oriental martial arts to the US, we're taken to the land of it's origins – China! We also get a standout performance from Jaden Smith (as in son of Will and Jada Pinkett Smith) who is the principal character in the film. While some may fault this remake for following the original story line so closely, I had no such qualms while watching it. The scenes and remolded characters were more than enough to make me feel like I was watching something fresh, even though I knew the gist of the story already.

'The Karate Kid' is helmed by director Harald Zwart ('Pink Panther 2' and 'Agent Cody Banks'). Zwart takes full advantage of his shooting locations; giving us great shots in and around Beijing and some of the surrounding countryside as well. It's notably ironic how much of the American culture is visible in this foreign location. The Director also sticks very close to the main story points about the bullying theme, avoiding any fluff or padding of the scenes presented.

As for the actors, again I can't say enough about Jaden Smith's performance as Dre Parker. He is at once believable and committed to the character he portrays in every scene. I always enjoy just about everything Jackie Chan does and his performance here goes beyond anything he's done to date. While there are a few lighthearted moments, his character is mostly serious. There are allusions to a less-than-perfect past; and Jackie's character has a very dark moment in revealing a demon that he's wrestling with.

Supporting parts like Jaden's Mom, played by Taraji P. Henson (last seen in 'Date Night'); and the Master of the opposing Kung Fu school are handled well enough, but they are minimal compared to Dre's nemesis, Cheng, played by Zhenwei Wang. I always feel the measure of how well the bad guy is played is directly related to how much the audience will dislike that character. In this instance, loath wouldn't be too strong a word for the performance that Wang delivers here.

While a little more gritty than the original, I think this offering stands well on it's own. As to being a potential family film, I wondered if the one heavy emotional scene and the level of violence might be little too much for the under-10 crowd. Other than that I think the movie still comes across as current, fresh, and relevant. It's definitely entertaining and well worth taking in.