4/4

3.5/4

3/4

2/4

3/4

2.5/4

3/4

3/4

2/4

3/4

2/4

2/4

2.5/4

3/4

3/4

2/4

3.5/4

2.5/4

3/4

3.5/4

3/4

2.5/4

0.5/4

2/4

2.5/4

Next 25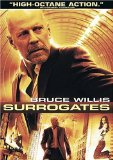 Surrogates (2009)
So-So Sci-Fi
2/4 stars
Directed by Jonathan Mostow ('Terminator 3: Rise Of The Machines', 'Breakdown'), 'Surrogates' has a familiar feel to it. It's sort of a cross between 'Die Hard' and 'I Robot'.
While I liked the concept behind the story; the actual film was creeping me out a bit – the whole notion of people just lounging at home while their mechanical alter-egos step out into the real world to do whatever bidding their controller wants to vicariously experience. There are some unsettling parallels to the current practice of people masquerading as something they really are not, on various web sites and chat rooms.

With a running time of just under 90 minutes, Mostow keeps things moving along at a brisk pace. Bruce Willis, as Detective Tom Greer, ends up channeling his John McClane character vis-à-vis his unorthodox approach to his work, his tendency to get very banged up in the process, and the requisite dysfunctional relationship with his spouse. Initially Tom roams the streets as his surrogate – the film gives the distinct impression that 90% of all adults do so – but then has to re-enter the streets as a more vulnerable 'meat-bag' (as real humans are referred to in several situations). We are also introduced to the fringe element of society that has chosen to shun all 'robots' and as a result are segregated from mainstream society and are derisively referred to as 'Dreads'.

Also filling a seemingly recycled role is James Cromwell ('Spider Man 3', 'Star Trek, First Contact'), who again plays an aged doctor/scientist responsible for the creation of these mechanical human extensions – just as he did in 'I Robot'. The rest of the cast is adequate with Rosamund Pike ('Die Another Day', 'Fracture') doing duty as Greer's wife, Maggie; and Ving Rhames ("Entrapment', 'Mission Impossible') playing a cult-like leader of a group of Dreads. Since several of these actors play both their human selves and the surrogate model as well, it's interesting to see their deliveries in both instances.

With a fair amount of things getting crashed, exploded, or just plain blown up, this is definitely a guy's action flick, but there is the human element with Tom and Maggie's own back story that could qualify this as a date movie (if only just barely). Again, I found the concept intriguing and can only wonder what other cultural and moral avenues might have been explored had this script been fleshed out a bit more. While definitely not Oscar material; the film is just good entertainment with some great special effects and make-up work. If you're not up to seeing this, maybe you can get someone else to go check it out for you?