0.5/4

3.5/4

3.5/4

1/4

3/4

3/4

1.5/4

3/4

0.5/4

3/4

2.5/4

1.5/4

3/4

1.5/4

4/4

3.5/4

1.5/4

2/4

2/4

2.5/4

2.5/4

2/4

2.5/4

3/4

3/4

Prev 25 | Next 25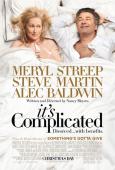 It's Complicated
Excellent Cast - Excellent Fun!
3/4 stars
Ever make major decision in your life and wondered if you did the right thing? Freshman Director and Writer ('Father Of The Bride', 'Something's Gotta Give') Nancy Meyers takes this every day quandary and deftly applies it to a divorcee's decision to become involved with her remarried ex-husband in the film 'It's Complicated'. While played mostly for laughs, Meyers carefully steers her script and actors on a course that avoids slipping into comedic camp, while fleshing out characters and situations that appear authentic, but still leaves you in stitches.

I think casting was critical in bringing the characters in 'It's Complicated' to life. I could write volumes about the acting contributions of Meryl Streep, who's acting career spans 30 plus years. Her acting range is almost boundless and she slips as easily into a straight-up drama role ('Doubt', 'The River Wild') as she does into lighter fare ('The Devil Wears Prada', 'Death Becomes Her'). As the divorcee, Jane, Streep wears her character like a comfortable sweater and brings ageless grace to bedroom scenes usually reserved for the 20-something crowd. Alec Baldwin plays the ex, who is now married to a much younger woman (played by Lake Bell) who is intent on conceiving a child with him. Baldwin's smarmy portrayal of Jake is the perfect foil for Streep's more straight-laced character. Unlike Streep's marginal grip on personal dignity, Baldwin just lets it all hang out – both figuratively and literally!

We also have Steve Martin playing a romantic interest for Streep as she wrestles with being the mistress of her ex-husband. Martin's performance is purely straight up here as opposed to his usually goofy roles. I don't know if I agree with this particular casting choice, as he comes off a bit too nerdy, but apparently Meyers is relying on her past association with Martin from earlier projects and makes this work for her. Being a secondary character, I think the positives outweigh any negatives here.

As to the rest of the cast, the one other standout is John Krasinski ('The Office' series), who plays a son-in-law married to Jake & Jane's oldest daughter. Stumbling upon one of Jake and Jane's trysts, he's forced to keep his silence but makes every effort to let his wife's parent's know that he's in on the secret. I found the three actors that play the couples' children to be fairly one dimensional and added little to the depth of the film. This is probably due to script limitations more than anything else, but is of little consequence as there is enough 'action' going on to keep you interested and amused.

Movies are meant to be entertainment and 'It's Complicated' certainly delivers. I also found myself caught up in the soundtrack, which consisted of some interesting baby-boomer related selections. Even with its minor flaws, as a comedy, it provides a generous amount of genuine laughs. This film eclipses Meyers' previous efforts and was much more than I was expecting. It's not just complicated; it's hilarious!