3.5/4

3/4

1/4

2/4

3.5/4

3.5/4

4/4

1/4

3.5/4

4/4

3.5/4

3.5/4

1.5/4

3.5/4

3.5/4

3/4

3.5/4

3/4

3.5/4

3.5/4

2.5/4

3/4

2.5/4

3.5/4

3.5/4

Prev 25 | Next 2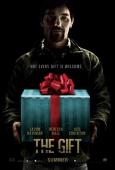 Gift, The (2015)
"Bait" man?
3.5/4 stars
The Gift, written and directed by Joel Edgerton, shines in a particular way no movie has made me feel since David Fincherís Gone Girl. This movie grips you right from the start, with a married couple being stalked by a strange man named Gordo in the form of giving gifts. What this movie succeeds at are a lot of things, but the most important aspect of success in the film is the fact that it lets you be the detective. Throughout this entire movie you may find yourself going back and forth on who to root for, which is true mystery right there.

There are pretty much three characters in this movie, and to our fortune, all three roles are acted perfectly. Jason Bateman nails it along with Rebecca Hall, and Joel Edgerton as Gordo. The film touches on themes like...well I am not going to spoil that stuff because Iím telling you, this movie is definitely beyond worth watching.

And the pacing of the movie is steady as well. The movie essentially walks uninterruptedly at a moderate pace, as if it is guided by a cinematic metronome. I want to keep this review vague because the content of the movie needs to be digested not through a mere review, but through experiencing the mastery of the film as a whole. In the end, I will say that The Gift was far beyond my expectations.