2.5/4

3/4

3/4

3.5/4

4/4

1.5/4

3/4

3.5/4

1.5/4

3.5/4

2/4

3/4

2.5/4

1.5/4

2.5/4

1/4

2.5/4

3/4

3/4

3/4

3/4

3/4

1.5/4

3.5/4

2/4

Prev 25 | Next 25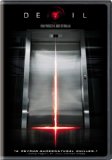 Devil
The devil likes elevators
2.5/4 stars
Don't expect too much and you won't be disappointed. What should be a really great movie turned out to be just 'okay' mainly because the direction. The direction was decent at best, there was too much explaining of the plot and not enough letting it unfold naturally. Plus, the twist at the end wasn't even there. Don't waste your time seeing it in the theatre, this is definitely a rental.

One thing I don't get is why they named the movie devil? The movie would have been better if you didn't know right off the bat that the devil was in the elevator with them.

On a personal note, I hate narration in movies when it isn't needed. This movie narrated things that didn't need to be there and may have been better if it wasn't for that aspect. Also the very end was fairly predictable and disappointing because you really wanted a twist.