1.5/4

3/4

2/4

2.5/4

3/4

3/4

2/4

3/4

2.5/4

3/4

1.5/4

2/4

2/4

1.5/4

2.5/4

3/4

3/4

2/4

2/4

3/4

3/4

2.5/4

2.5/4

1/4

3/4

Prev 25 | Next 25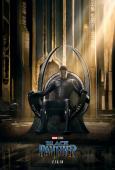 Black Panther (2018)
All hail Black Panther, king of Wakanda!
3.5/4 stars
Black Panther leaps off the screen in a dazzling adventure with a decidedly unique Afro-futuristic vibe. Director Ryan Coogler may have started out with independent dramas but his style feels at home within the MCU.
Set not long after CAPTAIN AMERICA: CIVIL WAR, the film follows T'Challa, the newly christened king of Wakanda as he combats evil forces from outside and from within his own nation.
The nearly all-black supporting cast is mostly strong. Michael B. Jordan and Andy Serkis are both excellent as the villains; Jordan is especially great and perhaps the best and intimidating MCU villain since Ultron. Lupita Nyong'o is that rare capable love interest that you don't see often in comic book movies. In fact, all the female characters are strong, resilient, and play a role in the plot. Given the comparatively darker tone, both Leticia Wright and Martin Freeman lighten the mood as Black Panther's sister and CIA contact respectfully so.
What's interesting is its tone and subject matter. Unafraid to incorporate politics into its plot, BLACK PANTHER boasts the usual stuff like action and spectacle, but its timely message of inclusiveness and altruism versus hatred and revenge ring so true for the present day. It's bold for a blockbuster, especially a superhero movie to proudly embrace the creativeness with an African setting and all black cast. Even rarer is the maturity to call attention to pressing social issues but condemn militant retribution as more radical elements often call for.
Sporting high tech gadgets, a wide cast of memorable characters, a kickass soundtrack, and even social commentary to boot, BLACK PANTHER starts the year 2018 right.