2.5/4

3/4

3/4

2.5/4

1.5/4

2.5/4

1.5/4

2/4

3/4

1.5/4

2/4

1.5/4

2.5/4

2/4

1.5/4

2.5/4

2.5/4

2/4

1.5/4

2.5/4

3/4

2.5/4

3/4

3.5/4

3.5/4

Prev 25 | Next 25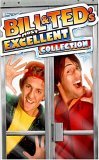 Bill & Ted's Excellent Adventure
A fun time with a little education
2.5/4 stars
Two bonehead California high school students (Alex Winter and Keanu Reeves) are going to flunk out of school. Because of their grades, which rides on their grade on an oral report for History class, they might never live their dream of a hit band called Wyld Stalyns.

What they don't know is that if they flunk, it will change the history of the entire planet in a most heinous way.

With help from a time traveler from the future named "Rufus" (stand-up comic George Carlin), the two go throughout the past in a time machine designed to look like a public telephone booth. However, "Rufus" leaves the two to take their most excellent adventure on their own.

The two go to various points in time and abduct some famous figures from history. And they do it in a fun way for not only their lunkhead selves, but the fun of the audience as well.

Most of the fictional cast is not as defined as the two title characters. The historical cast requires some knowledge of history -- so, I suggest that you do a little studying before seeing the movie because the historical characters aren't written entirely accurate. However, they are written, by design, in a comical way.

Some of the historical characters do not speak English, which creates some pretty good comedic moments. There are also other comedic moments throughout the film that will make you laugh out loud, but you won't bust a gut.

The time travel effects don't hold up in the 17 years since the film's release in 1989. They are interesting, but nothing spectacular like CGI could create these days.

Another problem with this movie is that "Bill" (Winter) and "Ted" (Reeves) do not spend enough time in the time periods they visit. This is because there are just too many historical figures to deal with. Some of them just appear in the film and are kidnapped by "Bill" and "Ted" without any character development. This also hampers the romance storyline between the two title characters and the "Princess Babes" (Diane Franklin and Kimberley LaBelle), not to mention the character development of the two ladies.

Though not an outrageously funny movie, Bill and Ted's Excellent Adventure is fun enough for a fun movie night at home with the family.