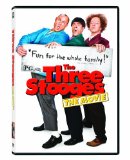 The Three Stooges

3/4 stars
(Owen McKenna Rio Rancho, NM)
I have put off watching this movie, didn't have interest even when it was on cable. I had never heard or read one good review. A friend told me to watch it, so I rented it this weekend.
I can only say I wish I had watched it sooner. The characters resembled the original Stooges. People said the plot was silly. As I watched the movie I thought it was a typical, although modernized Three Stooges movie.
If you like the Three Stooges take some time and watch the movie and have a good laugh. I give it two thumbs up.