3/4

1/4

1.5/4

3/4

1/4

1/4

2.5/4

1.5/4

2.5/4

3.5/4

3/4

2/4

3/4

2/4

3/4

3.5/4

1/4

3/4

2.5/4

1.5/4

3/4

3/4

1.5/4

3/4

3/4

Prev 25 | Next 25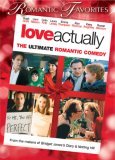 Love Actually

3/4 stars
Love Actually' isn't all that great, actually. Really cheesy and very predicable of how certain scenes are gonna turn play out. However, I guess that's the charm of it all, because I would consider this one of my guilty pleasures.

The film really captures the spirit of Christmas and Bill Nighy was fun to watch. Nighy has the best story in the movie, in my opinion. Andrew Lincoln, on the other hand, is creepy as hell in this movie. Even Lincoln himself admitted it.

Putting aside the creepiness, it's still the most Christmas of all Christmas movies you'll find.