3/4

3.5/4

3/4

1/4

1.5/4

3/4

1/4

1/4

2.5/4

1.5/4

2.5/4

3.5/4

3/4

2/4

3/4

2/4

3/4

3.5/4

1/4

3/4

2.5/4

1.5/4

3/4

3/4

1.5/4

Prev 25 | Next 25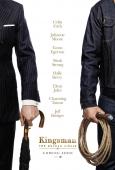 Kingsman: The Golden Circle
Golden Circle - Movie Review
2.5/4 stars
"F**k you!" - Quote by Academy Award Wining Elton John

I remembered back on it's release of the first Kingsman and how refreshing it was. Nothing about it broke any ground and isn't flawless, but manages to have a unique quality by taking well known troops in spy movies, and putting it's own spin. The villain was threating, another underdog story and it following old spy tropes. Basically things that could've been bad if put in the wrong hands, turned into a surprise hit.

"The Golden Circle" on the other hand is pretty much the adult version of Spy Kids. It focus more on jokes than brains. It dose what every sequel dose and that's try to be bigger and bolder. To be honest, it doesn't feel like Matthew Vaughn directed this and he normally avoids sequels, I now know why. Despite it not fully living up to the first, I still found enjoyment within the stupidity.

Landing more into the guilty pleasure side of things.

Taron Egerton, Mark Strong, and maybe Elton John were the highlights of the movie. Since Firth is absence for half of the movie, Egerton and Strong fill in that lovable chemistry that was in the first. Giving everything their got. And of course Elton John was great like always.

Colin Firth and the character Harry Hart are what made the first film so great. Not the usual type casting for an actor like Firth and it surprised many of us. As I said before, he's mostly absence for half of the film until he finally comes back when the plot needs him. The whole thing with him being shot in the eye, however in the first movie you can clearly see the bullet going through his head and the idea of a evil twin brother doesn't sound too bad. Anywhere, none of it makes sense, but I'm glad to see him back even if he didn't do much.

The actions scenes are once again top notch, especially the car chase at the beginning and final sentence. A little bit too quick to see things at times and I wish they was some build up behind it.

While not as compelling as Samuel L. Jackson character, but Julianne Moore was pretty decent as the villain. Of course Moore puts it all into everything shes in. Playing the psychotic housewife stuck in the 50's and doing some graphic things to get her way. It's weird there's a point in the film where she completely disappears only to re-appear in the third act, and I forget she was in this at one point.

The same goes with Halle Berry, Channing Tatum, and Jeff Bridges who are barley in the film. I heard there's a longer cut of the movie and I wonder if any of them had extra scenes, because who knows until actually get something. I mean, isn't Vinnie Jones suppose to be in this?

The plot itself when reading it out doesn't sound like a real movie. Some have already said it's self aware and how it's spoofing old spy movie. I can see that, but the movie is becoming the thing it's mocking. Trying to be smart on the political side of things and failing hard. Force humor and call backs for no reason.

But those are the problems I had which is quite a lot.

Overall Rating: MANNERS MAKETH MAN. OR NOT.