4/4

3.5/4

3/4

3/4

3.5/4

3/4

3.5/4

1.5/4

1/4

3/4

2.5/4

1/4

0.5/4

1.5/4

1.5/4

3/4

3.5/4

3/4

1/4

1.5/4

3/4

1/4

1/4

2.5/4

1.5/4

Next 25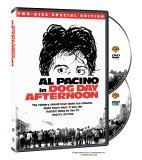 Dog Day Afternoon
LIFF32 (2018) #3
4/4 stars
"Kiss me. When I'm being f**ked, I like to get kissed a lot."

Dog Day Afternoon is a fantastic 'bank robbery gone wrong' movie, but becomes so much more than that.

I've been planning on watching this movie for awhile, but failed each time. Now it makes me appreciate my patience after finally checking it out at LIFF (Leeds International Film Festival). Seeing this on a big screen rather than a small one made the experience even more special.

The run time of two hours and 30 minutes, which is crazy because none of it dragged. I loved every minute of it. I was surprised how comedic it is, as I originally expected it to be a crime drama. It's hilarious seeing the hostages who were scared at first, but eventually got so comfortable around the robbers, they toy with their semi-auto rimfire rifles. Even ordering pizza and sodas, and Sonny (Pacino) pays for it with bank money.

Al Pacino is one of the all time greats. His voice, facial tics, walk, hunch, accent, etc. There's so much to pick up on his performance. He's better than sex. John Cazale is a national treasure and left us way too soon. The chemistry between Sonny and Sal is dynamic. Sidney Lumet directing captives the entire event and makes it absolutely gripping, especially the climax which had me on edge.

Pacino is fire. Cazale is holy. Sidney is god.