3.5/4

2.5/4

4/4

4/4

4/4

4/4

4/4

1/4

4/4

3.5/4

3/4

4/4

3.5/4

4/4

3/4

4/4

4/4

0.5/4

2.5/4

4/4

1.5/4

3/4

3.5/4

4/4

3.5/4

Prev 25 | Next 25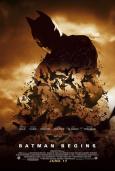 Batman Begins
Morals, Fear, Justice and Batman
4/4 stars
Batman Begins is more than just your typical, silly, Sunday-morning Batman piece. It's a work of art.
Before this movie, that's all that Batman was. A silly popcorn flick.
But then the Nolan struck the cinemas...
He gave Batman a meaning. He didn't just tell you: hey look, a bat suit, doesn't it look cool? No. He said: Here's a person. A person who is tormented by the fact that his city is dying, and wants to spark a symbol, so that people will stand up to their fears. So he picks his fear: Bats.
Brilliant.
Christopher Nolan taking over Batman is the best thing in cinema since Kubrick. I couldn't imagine a better re-imagining.
I cannot praise the brilliant screenplay enough, because it portrays elements of Bruce Wayne, which don't only describe him as a person and as the Batman. They describe his inner values. His tormented past, his troubles, his philanthropy, his will to do good.
The direction, while very nice to look at, is a little underdeveloped and the least fashionable of the Dark Knight trilogy. There are many quick-cuts during the action scenes, but they are not necessarily badly choreographed.
The acting by Christian Bale is heartbreaking. As Bruce Wayne, he shows us not only what he can do to help his slowly crumbling city, but why he wants to do it. Why he wants to help and mean something, pick himself up, acting on his father's principle.
In a Batman movie, where you would least expect there to be one, a message is implicitly told. It teaches us to stand up for what we believe in, to not be afraid to pick ourselves up when we fall and face our fears. And when a movie meant for the average movie-goer can incorporate that kind of a message, I can't help but bow my hat in respect.

When I was expecting popcorn entertainment, I got the epic. I got the dark, sophisticated, edgy Batman film the world needed. Some people believe Christopher Nolan to be the Kubrick of our time, and I am among those people, because he has crafted something with equal parts action and morals.