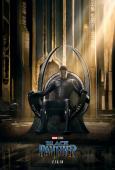 Black Panther (2018)
Black Panther is a masterpiece.
4/4 stars
Such a fantastic film that hits the right mark on so many things, I've seen the film twice and i'm still digesting what I witnessed in the theater. The direction, story, cinematography, acting, action and pace we're damn near flawless. It also has stunning visuals, just a visual treat. It's emotional, action packed, heartfelt and quite touching at times. Cooglar did an amazing job at giving this film a heartbeat and molding and shaping it into his own vision. What you get out of that is a masterpiece of filmmaking. Not to be out done the actors truly shine in this film, there are several individual knock out performances. This talented cast play off of each other so well. Boseman, Jordan, Nyong'o, Gurira and Wright are all outstanding in leading roles. Not to be outdone Serkis, Bassett, Duke, Brown, Whitaker also shine in smaller roles. The ceremony where T'Challa is crowned King is an absolute thing of beauty with the 5 tribes of Wakanda providing beautiful vibrant colors. This is the finest film yet to come out the MCU, Black Panther is superb, I need to see it again in a theater, it's that good.