3/4

2.5/4

2/4

3.5/4

3/4

3/4

2.5/4

3/4

3/4

3/4

3/4

3/4

2.5/4

3/4

3/4

2/4

3/4

2/4

3/4

2/4

3/4

2/4

4/4

2/4

2.5/4

Prev 25 | Next 25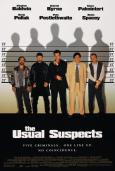 The Usual Suspects
Mindbending!
3.5/4 stars
"The greatest trick the Devil ever pulled was convincing the world he didn't exist and just like that….he's gone!"

As the film opens we see Dean Keaton (Gabriel Byrne) on a ship, bodies all over the place. He looks up to see a figure standing there who he addresses as "Keyser" before he is shot. The ship explodes but there is one survivor: a cripple named Roger "Verbal" Kint (Kevin Spacey) who tells the story of how the titular 'usual suspects' (Verbal and Keaton, plus the arrogant Todd (Kevin Pollak), the dim-witted McManus (Stephen Baldwin) and Fenster (Benicio Del Toro), got together and the events leading to the ship explosion to Agent Kujan (Chazz Palminteri), who has an ax to grind with Keaton. Agent Kujan is sure that Keaton masterminded the attack and has escaped so he interviews Verbal who has done a deal with the police and is soon to be released.

Verbal tells a tale of how the group met up when they were all hauled in by the NYPD for a robbery and put in a line up together. There they plan a job to get back at the police before heading to LA to lie low and to fence their ill-gotten gains. Whilst there they are approached by Kobayashi, a lawyer claiming to work for the diabolical Keyser Soze, a legendary killer (after all, he did kill his family rather than let his enemies get to them) so powerful and mean and ruthless and vindictive that no self-respecting hood who values his own life dares double-crossing him, even though most are not even sure who he is, where and how does he operates, or if he exists at all.

It seems that at one time or another, each of the guys has stolen from Soze, and now he has a job for our 5 anti-heroes: they are to board a ship to steal nearly $100 million in cocaine. Clearly a suicide mission, they have no choice but to follow through, especially when Soze's lawyer Kobayashi (Pete Postlethwaite) explains quite calmly (Even when threatened with death) just how high the stakes really are.

The Usual Suspects will have you captivated right from the start. A film that is so involved and so smart and engaging in its delivery that it drops several clues to its ending while simultaneously not entirely making them obvious for first time viewers. Greatest plot twist ever!