2.5/4

3/4

2/4

2/4

3/4

3/4

2.5/4

3.5/4

3/4

2.5/4

3/4

3/4

3/4

3/4

N/A

N/A

3/4

N/A

3.5/4

3/4

3.5/4

N/A

2.5/4

2.5/4

2.5/4

Next 25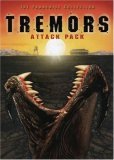 Tremors 3: Back To Perfection
"Tremors 3: Back To Perfection" by Yojimbo
1.5/4 stars
Burt returns home to Perfection Valley to find the graboids have returned and transformed into yet another incarnation.

The journey from Tremors to Tremors 2 was a case of going from the sublime to the ridiculous, and here in Tremors 3 we go from the ridiculous to the absurd. The major flaw in the first sequel was the premise of replacing the underground creatures with a wholly unsatisfying new monster and here the same thing happens again; they now fly and fart explosives. Yes, you read that correctly. Fred Ward has also abandoned ship leaving only Michael Gross in the driving seat and although it was a nice touch to include the supporting cast from the original film, the performances are pretty damn bad.

Add the fact that the dialogue is suspect even for a B-movie and although this film was made 11 years after the original, it actually has worse visual effects and this charmless straight to DVD effort is something of a prehistoric lame duck.