2/4

3/4

1.5/4

2/4

2.5/4

2.5/4

2.5/4

1.5/4

N/A

1.5/4

2.5/4

2/4

2.5/4

2.5/4

2.5/4

2/4

2.5/4

2.5/4

1.5/4

3/4

2.5/4

2.5/4

2.5/4

3/4

2/4

Prev 25 | Next 25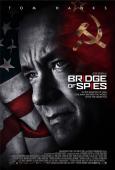 Bridge of Spies
"Bridge Of Spies" by Yojimbo
3/4 stars
A lawyer is drafted in by the C.I.A. to negotiate a prisoner exchange between America and Russia during the height of The Cold War.

Bridge Of Spies is another worthy tale concerning an individual making a difference in the world from Steven Spielberg. It is typically very technically accomplished, has a splendid eye for period detail and Tom Hanks puts in another strong performance in his usual "everyman with courage and integrity" persona. Mark Rylance's understated supporting turn as the exposed Russian agent also has a quiet dignity and Spielberg takes great pains to avoid the demonisation of this "enemy". It's more Catch Me If You Can than Schindler's List however, as it's a little too slick and comfortable to ever get you onto the edge of your seat; the result is like a more polished and less ponderous version of The Good Shepherd.

Another quality project from one of the most consistent directors in Hollywood, that perhaps lacks the kind of spark that makes a movie truly special.