3.5/4

N/A

1.5/4

3.5/4

2/4

2/4

4/4

2.5/4

2/4

3.5/4

3.5/4

3/4

3.5/4

2.5/4

3/4

1/4

4/4

4/4

3.5/4

4/4

3.5/4

4/4

3/4

4/4

3/4

Next 25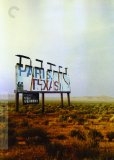 Paris, Texas
Paris, Texas
3.5/4 stars
"I'm not afraid of heights. I'm afraid of fallin." This has elements of a powerful epic sublime drama, western settings and an entertaining human disconnection. A story that focuses on Travis Henderson (Harry Dean Stanton) and brother Walt Henderson (Dean Stockwell). Walt inquires Travis as to what happened for 4 years but doesn't speak at all. The first word Travis says is Paris. Hunter meets Travis after four years of absence and tries to avoid him.

The picture had so many brilliant quotes: "Your living with people now." – Walt, "He's got to get tired sometime." - Anne , "Why can't he do anything?" – Hunter, "It's just the way it is" "But a funny thing started to happen, he didn't even notice it at first, she started to change." - Travis and "The pain of seeing him grow up and not seeing it." - Jane. The movie could have been a silent film and we could still understand the story in they method it was shot.

One of the most emotionally driven drama's about finding themselves and purpose. Cinematography was also one of the best this reviewer has seen from the first scene to its last shot. Stanton was authentic and just brilliant. Only minor observations this critic had were its length/pace, lack of history about Henderson's family thus his actions and the conclusion as to what would happen to him. Still, Paris, Texas is one of the most underrated picture of its era (much like Jim Jarmusch's films but has a cult following), the themes of broken dreams, a fall out between people in love, lost time, redemption and sacrifice were well depicted. Not for everyone but still effective as a message and a poetic cinema.