3.5/4

N/A

1.5/4

3.5/4

2/4

2/4

4/4

2.5/4

2/4

3.5/4

3.5/4

3/4

3.5/4

2.5/4

3/4

1/4

4/4

4/4

3.5/4

4/4

3.5/4

4/4

3/4

4/4

3/4

Next 25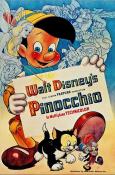 Pinocchio (1940)
Pinocchio review
4/4 stars
"What does an actor want with a conscience, anyway?" Viewing this movie again after several years with my kid, Saw this a young boy and was truly fascinated by the animation. Geppetto (Christian Rub) has a wooden boy puppet named Pinocchio (Dickie Jones) and cares for Figaro and Cleo, cat and goldfih respectively. As narrated by a charming cricket named Jiminy Cricket (Cliff Edwards), Geppetto wishes for his puppet to become a real boy and afterwhich a Blue Fairy (Evelyn Venable) enters and makes him come to life. Pinocchio meets certain influencers such as Honest John and Gideon.

The animation for its era was spectacular, voice acting enjoyable and the songs iconic and deservedly awarded such as "When you wish upon a star." It's screenplay was likewise provocative with lines: "What they can't do these days." from Jiminy, "Now, remember, Pinocchio: be a good boy. And always let your conscience be your guide." and "The gift of life is thine." from the Blue Fairy. Bonus material such as the Making of featurette makes one appreciate the hardwork Walt Disney and the animators have done to create such an innovative and influential picture. From the direction, likable leads, lessons (of right vs. wrong, changing times, hollywood, importance of life, transformation, guidance and sacrficial love), gorgeous score and enticing voices, Pinocchio truly deserves its status as a classic both for kids and adults.

For those who think this is just a film for children, check these stats from an August 1993 issue of Playboy cited 43 instances of violence and other unfavorable behavior in this film, including 23 instances of battery, 9 acts of property damage, 3 slang uses of the word "jackass," 2 shots of male nudity, 3 acts of violence involving animals, and one instance of implied death.